The perfect digital mailbox to manage your traditional postal mail
OnePlan Mailroom puts you in complete control of your postal mail and package deliveries. It's like having your own receptionist – at a fraction of the cost!
Legitimize your business with a professional street address
Stop wasting time driving to a P.O. box to check for mail
Securely check your postal mail on your computer or smartphone
Save time and money - focus on running your business
Get a professional business address for your company, combined with your own virtual postal mailbox system
Secure your business address
Sign up for a Mailroom plan and start using your professional business address. This is where you'll receive your company's physical mail.
We receive & process your mail
When we receive postal (physical) letters or packages for your business, our team securely scans and digitally stores the outside of each piece in your OnePlan Mailroom account.

You get notified
Receive an email or SMS notification letting you know that your secure
digital mailbox has new mail.
Mail is handled your way
Log in to your Mailroom account on your phone or computer to preview your mail and choose how to handle it: open it, recycle it, shred it, hold for pickup, or forward the physical mail to the address of your choosing.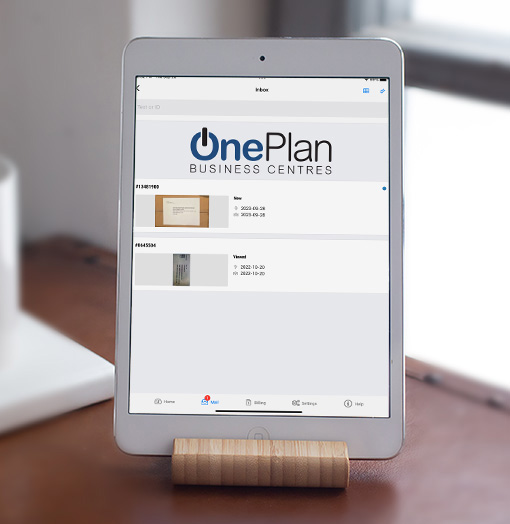 Choose from four convenient OnePlan Mailroom plans:
Starter

Great for starting a business

Solo

Ideal for solo entrepreneurs

Small Business

Perfect for growing businesses

Growth

Complete small business solution

Price per month (Billed annually)
$19
$24
$34
$49
Price per month (Billed monthly)
N/A
N/A
N/A
$69
Postal Mail Service
Professional address for your business
Incoming mail & packages
$2/mail piece + $5/package
5/month*
15/month*
Unlimited
Each additional mail piece
N/A
$1
$1
N/A
Open & Scan
$1.00/page
$0.50/page
$0.50/page
25 pages included; then $0.25/page
Forwarding
$10 each + shipping
$5 each + shipping
$3 each + shipping
No handling fees; shipping fees will apply
Business Names
1
1
1; each additional $10/month
2 included; each additional $10/month
Recycling
Included
Included
Included
Included
Shredding (per mail piece)
$1.00
$0.15
$0.15
Included
Local pickup
Mon-Fri, 8:30 am - 5:00 pm
Mon-Fri, 8:30 am - 5:00 pm
Mon-Fri, 8:30 am - 5:00 pm
Mon-Fri, 8:30 am - 5:00 pm
Physical storage envelopes > 30 days
$0.15/day each
$0.15/day each
$0.15/day each
$0.15/day each
Physical storage packages > 30 days
$1/day each
$1/day each
$1/day each
$1/day each
Online storage
Unlimited
Unlimited
Unlimited
Unlimited
Mailroom app
Included
Included
Included
Included
Free meeting room / drop-in access (per month)
N/A
N/A
N/A
1 hour meeting room or ½ day drop-in cubicle
 
Get Started
Get Started
Get Started
Get Started
OnePlan Mailroom: Everything you need to manage your business mail

Your postal mail: online
No more driving to a post office box. Incoming postal mail, including envelopes and packages, gets delivered to your secure online mailbox.

Professional business address
Your business acquires greater legitimacy with a commercial business address, rather than a home address or P.O. box (think Google StreetView!)
Remote access to manage your mail
Just like email, all incoming postal mail is easily managed securely online and remotely from your smartphone… 24/7.

Forward mail & packages
Forward (or pick up) your physical mail & packages on demand. Shred or recycle the less important pieces.
Open & scan your mail
Decide piece by piece which mail you would like opened and scanned.
How quickly can I start using the address?
The signup process takes as little as a day. You'll receive a welcome email with instructions and can start using the address immediately.
How do I receive my mail and how long does it take?
As soon as you've completed the setup process, our team scans and digitally stores incoming mail in your OnePlan Mailroom account. You will receive a notification of all incoming mail by email or SMS and can then choose how each piece of mail is handled.
Will you open and scan the contents of my mail?
Yes. You can request that the contents of any mail item be scanned. We will scan the contents into a fully searchable PDF that you can view in your account, sync to Google Drive, Dropbox, or download to your local computer. You can set up a rule to automatically have all of your mail contents scanned if you don't want to request scans individually.
How do I redirect mail?
Once you have set up your OnePlan Mailroom membership, you can begin redirecting mail to your new business address with us. You may notify senders individually of your new address or file a change of address with the post office. Most people prefer to redirect mail from specific senders rather than having all of it sent to us.
How does mail storage in the cloud work vs. physical storage, and what are the fees?
We store both the physical mail we receive, and the digital copies we create after scanning your mail.There are two types of storage: Physical Mail Storage, which is the tangible, physical original of your mail that is kept securely at our facility, and Cloud Mail Storage, which is the digital scans we produce when we process your mail. Your Mailroom membership automatically includes 30 days of free storage for your physical mail. After 30 days, each envelope being stored by us is subject to a charge of $0.05 per day, and each package is $1/day.